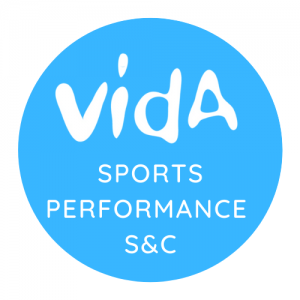 Vida Fitness is excited to announce our new athlete development Sports Performance Strength & Conditioning Program.
Athlete development or sports performance strength and conditioning is about developing key athletic skills that are at first fundamental, and then specific to someone's sport or sporting position. All athletes need to learn how to squat, lunge, hinge, push, and pull for strength while gaining appropriate flexibility and mobility. All athletes need to learn how to move efficiently; run, land, jump, hop, stabilize, accelerate, decelerate etc.
For junior athletes, learning these fundamentals takes time, and needs to be consistently worked on and monitored. A strength and conditioning program should develop the athlete's strength, ability to move effectively and efficiently, and then specific qualities that are important for their chosen sport.
This program is designed to help develop each individual to give them the best chance of achieving their goals in sport. This is not a quick fix, do it once program. This is about developing athletes to have long term results, improve sporting performance, reduce injuries, creating training habits and increase their love for the game.
The program also enables the junior athlete to be surrounded by like-minded people, creating an environment to thrive and achieve. The Vida Fitness vision is to create life opportunities for each individual through exceptional experiences.
Who should do this program?
If you are a junior sporting athlete aged between 15 & 18 looking to develop yourself to achieve an increase in performance and achieve your goals, this is the program for you.
Who is Dan Bailey?
Dan is a strength and conditioning coach with a background in track and field. As a junior Dan represented Australia in the Decathlon at the underage World Championships, in Ostrava, Czech Republic.
He now coaches a private track and field squad of national-level hurdlers and sprinters. He was Head of Strength and Conditioning, Athletics and Track and Field at Carey Baptist Grammar School for 5 years before taking a full-time position with Richmond Football Club as an AFL strength coach and VFL Performance Manager.
Dan has also worked in the Richmond AFLW program since its inception in 2018. Dan has a Bachelor of Sports Science from ACU, a level 1 ASCA Strength and Conditioning Coach, and an Athletics Australia Level 2 Advanced Sprints, Hurdles, Middle Distance, and Jumps Coach.
Dan's strengths include running/movement mechanics, technical lifting coaching, and performance programming from the developing athlete to the elite.
So what is in the program?
Initial one on one consultation to ensure the athlete meets the criteria and is a good fit for the program
Individualised S&C program
Access to your personal program via the Teambuildr App
Gym access and in gym support from the Vida Fitness team
Program monitoring
Program Update and small group tech/education session every 6 to 8 weeks
When does the program start?
Our first intake will start from Monday the 14th of December 2020
Can I start at any time during the year?
Yes you can start at any stage. The best time to start was yesterday, but the next best time to start is today. After you have done your initial individual assessment you will receive your program and complete the remaining weeks of the 6 to 8 week block.
How do I get access to my program in the APP?
You will be sent details on how to create and log into your program via email.
How do I register?
To register, simply click on the following link and select the Sports Performance S&C Program membership option and set up your account.
CLICK HERE to join
How do I get access to the gym?
As a member, you are able to receive a FOB which gives you access to the gym between opening hours. The FOB can be arranged with the Vida team for a $20 refundable deposit.
What is the cost of the program?
$44 per week billed fortnightly
Speak to us about a 6 month or yearly price if you prefer
How is the payment made?
The program will be billed fortnightly via direct debit through your membership account. Please speak with the Vida team if you would like to pay for the program upfront for a year.
What if I need help understanding my program?
If you are unsure about any part of your program or technical support, please feel free to speak to a Vida Fitness team member in the gym. Otherwise, email coach Dan and he will come back to you.