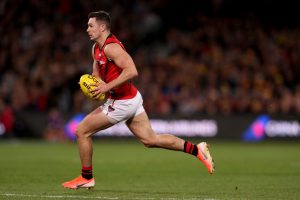 Transitioning out of defence is one of the most important parts of your tactics on game day. Not only does it get you out of defence, but it can, if done quickly, move the ball into the forward line fast.
One of the best ways to use this defensive to attacking tactic is when the ball is intercepted or possession gained on one side of the ground, the player with the ball quickly switches the play to the other side of the ground.
The reason why this can work is:
– Most players will be on the side of the ground where the ball was previously, opening up space to the transition side.
– Because the defending team was previously attacking forward, they may not be manned up on their player, leaving the attacking team open to transition the ball forward.
– Opens the field up, making room for fast play
How to practice and Implement this strategy. 
First of all keep using the term "in one way out the other".  This will remind your players to scan the field when they are in this position to potentially use it.  Get your players to swivel their heads to scan for options every-time they get the ball. Therefore if a player gets the ball, they have an option to kick the ball down the line. They can also transition the play across the ground, or into the middle (only if a player is well and truly open).
Kicking the ball down the line should be encouraged only when there are no options left, or the player feels that is the best tactic to use in that particular situation. Maybe their best marking player has a mismatch, or you are winding the clock down and kick it close to the boundary line, looking for a stoppage.