Vida Footy Club Education Program 2021
Start planning your clubs coach education and training plan for 2021 now. We are starting conversations and taking bookings for introductory sessions to help you better understand how we can support your club to achieve their goals. See below some of the benefits to our program.
Why Vida Footy?
Why Vida? Throughout years of being part of junior sporting development, Vida is well positioned to provide coaches, clubs and players with the tools for coaching, player and club development. Vida has a proven player and coach development record for more than a decade. Give your club the plan, processes and resources to help growth the game, the player, the coach and your club Vida Footy, creating life opportunities.
Benefits for the coach
Coaches have the support they need to develop young players
Connects their team on and off the field
Work with like minded passionate coaches and industry leaders
Easy to use, mobile friendly coaching tool
Ease of mind of knowing there is a clear structure
Benefits to the player
Consistent message from all coaches as kids move into the next age group
Quality training sessions that maximise development
Fun, well constructed, and meaningful training sessions
New and exciting activities at training
Benefits for the club
Provides structure & direction for your club
Enable sustainable club growth and player development
Develops your junior talent
Helps with player retention
Happier parents knowing their child is getting the best coaching possible
FIND OUT HOW WE CAN HELP YOUR CLUB
CONTACT US TO BOOK YOUR CLUB'S
FREE INTRODUCTORY PRESENTATION
If there was no Vin Dattoli at Ivanhoe Colts this season we could not have won a premiership make no mistake. The program Vince and Vida Footy developed was the single most instrumental reason for the success of the Ivanhoe Junior Football Club Colts 1 premiership in 2015; absolutely and unconditionally
Rick Daniels
St Marys Greensborough Junior Football Club have been fortunate to have VIDA Football assist the club with our junior development program. With 24 boys & girls sides in the YJFL ranging from U9's through to U17 Colts for boys and U18 Youth for Girls, VIDA Football has been instrumental in assisting our Football Department provide the resources for our Coaches to help them develop our players. St Marys GJFC enjoy a great working relationship with Vince, Justin & Anthony at VIDA and as Head of Football at St Marys GJFC I strongly recommend their services for any junior football club.
Glen Costello
A major strength of Vinny's is his ability to build relationships with those who he works with and coaches, which is one of the main reasons we began to play a brand of football which is respected across the APS. Vinny also ensures he invites down other personal resources to assist at training, adding value and a different voice to the program. I cannot speak more highly of what Vince and his Vida philosophy has done for the Carey Football Program and look forward to continuing to develop the strong relationship into the future.
Jack Joslin
2021 Package Options & Inclusions
Silver Package
1 x Master Class at your Club or School tailored to your needs (two & a half hour session). A copy of the presentation will be made available for coaches to refer to post the master class.
Weekly email to your coaches through the football season with themed content and activity suggestions
Online access to our member portal (single club share log in) which includes over 200 online lesson plans (growing weekly) + Over 250 online training videos (growing weekly) + Online support and tutorials + Weekly email for suggested training themes + Weekly updates to lesson plans and videos + Fitness plans for different age groups + Topical articles and blogs + How-to videos + more.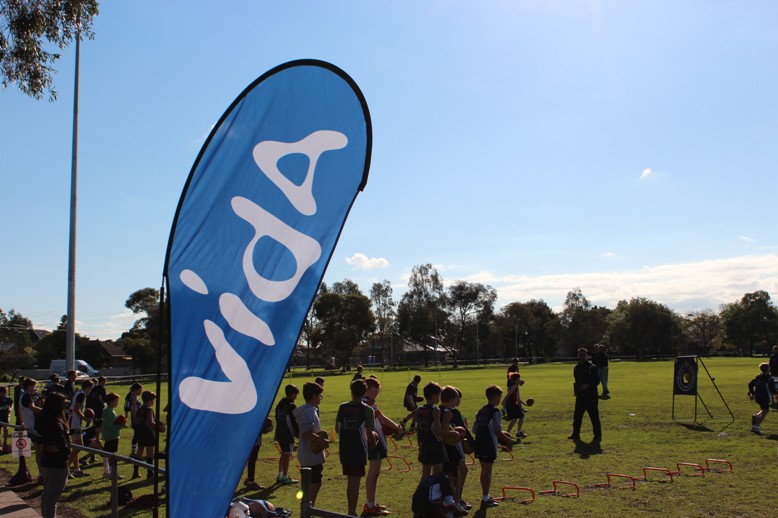 Gold Package
1 x Master Class at your Club or School tailored to your needs (three-hour session). A copy of the presentation will be made available for coaches to refer to post the master class.
1 x Club Coaching Manuel with age & skill-based activities and progressions. The manual also links to our online portal for further ideas and instruction. The club or school will also receive a pdf shareable version of the manual.
Weekly email to your coaches through the football season with themed content and activity suggestions
Online access to our member portal (single club share log in) which includes over 200 online lesson plans (growing weekly) + Over 250 online training videos (growing weekly) + Online support and tutorials + Weekly email for suggested training themes + Weekly updates to lesson plans and videos + Fitness plans for different age groups + Topical articles and blogs + How-to videos + more.
Player vouchers to give out as weekly awards during the footy season
Platinum Package
1 x Master Class at your Club or School tailored to your needs (two & a half hour sessions). A copy of the presentation will be made available for coaches to refer to post the master class.
10 x Team training sessions. These can be age group-specific and a great way for your junior players to develop their skills having one of the Vida Footy team take the session. It is also a great way to have coaches see first hand how we engage, implement and develop skills at all ages and levels.
1 x Club Coaching Manuel with age & skill-based activities and progressions. The manual also links to our online portal for further ideas and instruction. The club or school will also receive a pdf shareable version of the manual.
Weekly email to your coaches through the football season with themed content and activity suggestions
Online access to our member portal (single club share log in) which includes over 200 online lesson plans (growing weekly) + Over 250 online training videos (growing weekly) + Online support and tutorials + Weekly email for suggested training themes + Weekly updates to lesson plans and videos + Fitness plans for different age groups + Topical articles and blogs + How-to videos + more.
Player vouchers to give out as weekly awards during the footy season
Closed club Facebook group for your coaches to connect, share and ask for feedback with the Vida Footy team