These diagrams can assist with your set ups for boundary throw ins at almost all levels and age groups.  Making your players aware of tactical differences in the game contributes significantly to their overall development.
Take a look through the diagrams below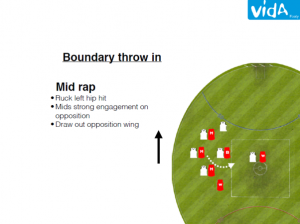 Mid Wrap

With this boundary throw in set-up, we want to have all your players in front of their opponents on the ruck side of the opposition. This set-up would predominantly be used in the attacking half of the ground. The nominated on-baller would attack the ball whilst their team-mates would block for him/her. The wing would be behind the ruck and could be used as an outlet to transition the ball forward.  It's still important to keep distance amongst team-mates as to not clog up the contest.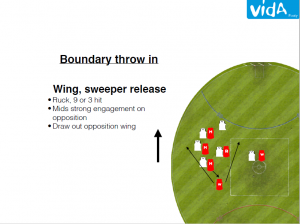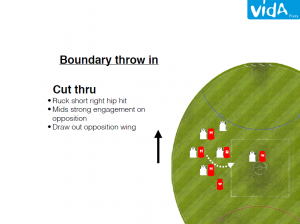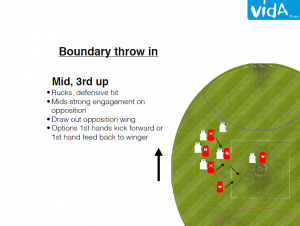 Set-ups For Younger Players. 
Again, like most of our other tactical set-ups, younger players should start thinking about their position on the field.  Please remember to explain to your players the "why" of the set-ups so they understand the purpose.
A suggestion for a boundary throw in set-up is to have your players standing around the contest with at least two meters between them on the closest team-mate.  Then you could make a team rule that the closest player to the ball goes for it, whilst the other players either block or receive the ball.
These skills can be worked on in simulated contests at training in two or three small groups with assistant coaches helping.  Moreover, small and medium handball grids would also work well in working on creating space, blocking, handballing on 45's and working as a team.