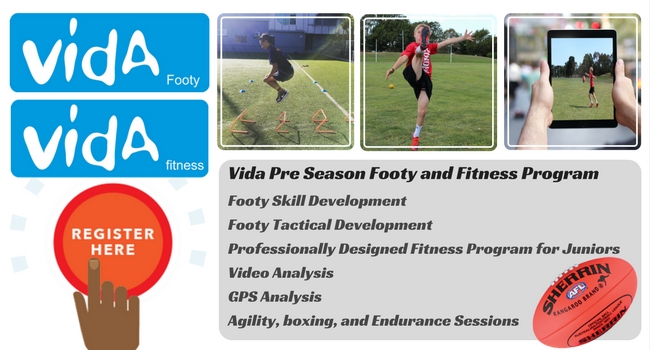 The  VIDA FOOTY PRE SEASON CHALLENGE will run for 6 weeks in term 1 2018.  The program is professionally designed to develop junior footy players 10 years of age or older.  Each session will run for 90 minutes, with those sessions divided into a footy and fitness session, with the footy going for 60 minutes, and the fitness going for 30 minutes.  Vince Dattoli will run the footy skill development section and the fitness section will be designed by Vida Fitness' own qualified sports scientist, Patrick Benson.  The pre-season program offers junior boys and girls the chhance to challenge themselves to be a better player for the 2018 season.
The program will commence on the 12th of February (Monday) and finish on the 26th March.  Every session will be on a Monday and will be held at Ford Park, Ivanhoe (Click here for map).  The 90 minutes will begin at 5:15pm and go to 6:45pm.
The 6 weeks of fitness will have a specific purpose of three main themes.
2 x weeks of boxing related activities
2 x weeks of various agility work, including plyometrics
2 x weeks of endurance based running

Additionally, the footy skills development section of the program will be designed with the following themes covered over the 6 weeks. Each session will be a combination of several of the below themes, which will be rotated weekly.
Video Analysis
Kicking and Handballing technique
Tackling technique
Tactical awareness and development
Marking technique
Game based awareness and development
If this sounds like a program for you or your child, please click here to sign up!
In summary, the details are as follows. 
Where?  Ford Park Ivanhoe (Click here for map)
When? MONDAY nights from the 12th of February to the 26th of March (6 weeks) – No session Long Weekend
Cost? $225 for the 6 weeks
Time? 5:15pm to 6:45pm