Welcome!
Hi everyone, we invite you to come and join us  for our Vida Footy camp these holidays.  We are running a School Holiday Camp for all junior level players 14 years and younger.  We are already planning the two day camp and we really looking forward to meeting a lot of new players in Strathfieldsaye and the Bendigo area. Whether it be the off-season or during the season, it is important to keep working on your skills so that when next year comes around, you are an even better player than the previous year.  If you train year round, you will become a better footy player, guaranteed.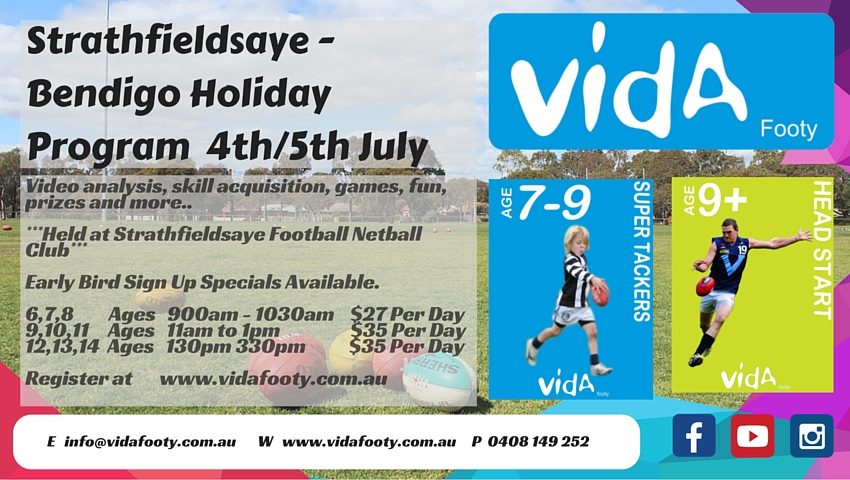 Here are some of the details
The camp will run on the 4th and 5th July
Juniors 6, 7 and 8 year olds.  9am to 10 30am each day
Juniors 9, 10 and 11 years olds. 11am to 100pm each day
Juniors 12, 13 and 14 year olds.  130pm to 330pm each day.
You can choose one or two days to suit your holiday schedule.
We have three main time slots and within these sessions we group kids according to their age so everyone will be in a group where their skill development needs are met.
Early Bird Special for 9,10,11 and 12, 13, 14 Camps. The early bird special is if you sign up before the 20th of June for two days, you will get a FREE Training Singlet.
Early Bird Special for 6,7,8 camp is a two day price of $45.
Cost for 6,7,8 year old camp $27 per day
Cost for 9,10, 11 and 12,13,14 camp $35 per day

We look forward to seeing you!
We are currently organising the finer details of the camp, and when we do we will be posting them for everyone to see! However, the following is always covered in our awesome camps.
Video analysis will also be a major part of this holiday program and every player will be recorded to help with their kicking technique at least once throughout the camp.  We will also be adding in a match review session to the camp where will have a Television set up and go through some tactical techniques so players can see certain passages of play and use them when we go into match simulation.
Additionally we will be playing some match simulation games on the last day of the camp.  We will play a mini 5 v 5 tournament to try and put together all the skills developed over the previous two days.
We will have special guests come throughout the three days of the camp and we will announce these guests as it gets closer to date.