Hi everyone, we invite you to come and join us once again for our Vida Footy Clinic September holidays. We are running a School Holiday Clinic for all junior level players 14 years and younger. We are already planning the three day camp and we are also making sure that this holiday program will be the best one we have offered.
Our special guest will be STEELE SIDEBOTTOM from the Collingwood Football Club.
He will be coming to the camp on Wednesday so be sure to have plenty of questions for him! Steele will be involved in activities and also giving time to sign autographs, answer questions and hang out with the players. We will also have Anthony Rocca come down and do some skill development work and additionally, Sav Rocca will also be there to help all the players doing Video Analysis and skill acquisition work.
Now that the offseason is finishing, it is important to keep developing the skills into the future. Additionally, if you love your footy, why should you have to wait until next year to play again! We will be making sure all players have plenty of fun, with a heavy focus on skill development, video analysis but also fun, prizes, and games mixed in.

Here are the details
The camp will run on the 19th, 20th and 21st of September (Mon, Tues Wed) You can do one, two or all three days.
Steele Sidebottom visit on Wednesday the 21st.
Tackers camp 7-9 year olds. 1130am to 130pm each day
Junior camp, 10 – 14 year olds. 1130am to 130pm each day
You can choose one, two or all three days to suit your holiday schedule.
We have two main time slots and within these sessions we group kids according to their age so everyone will be in a
group where their skill development needs are met.
Cost $35 per day or $95 for all three.
Training Shirt $15 each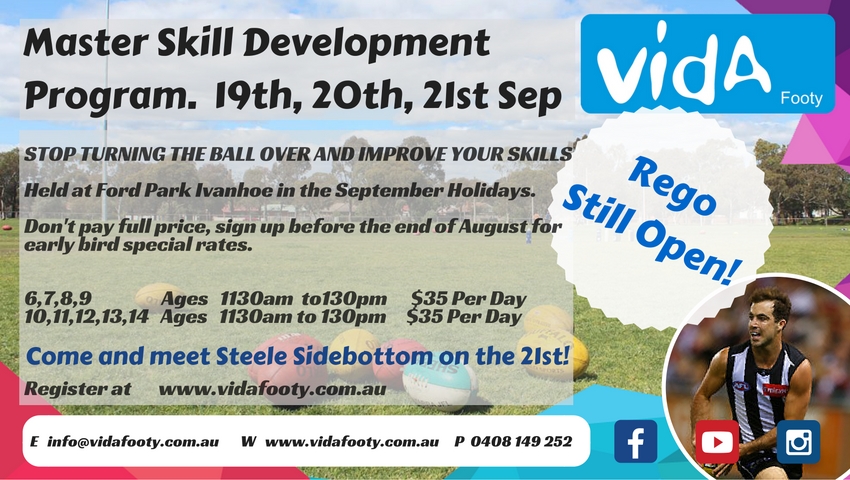 What to look forward to seeing you!
We are currently organising the finer details of the camp, and when we do we will be posting them for everyone to see! However, the following is always covered in our awesome camps.
Video analysis will also be a major part of this holiday program and every player will be recorded to help with their kicking technique at least once throughout the camp. We will also be adding in a match review session to the camp where will have a Television set up and go through some tactical techniques so players can see certain passages of play and use them when we go into match simulation.
Additionally, we will be playing some match simulation games on the last day of the camp. We will play a mini 5 v 5 tournament to try and put together all the skills developed over the previous two days.
We will have special guests come throughout the three days of the camp and we will announce these guests as it gets closer to date.
Obviously, we will be giving away a lot of prizes and playing plenty of games mixed in with our skill and tactical development! We invite everyone, boys and girls to come down these school holidays and play footy with the Vida Team. See you there.